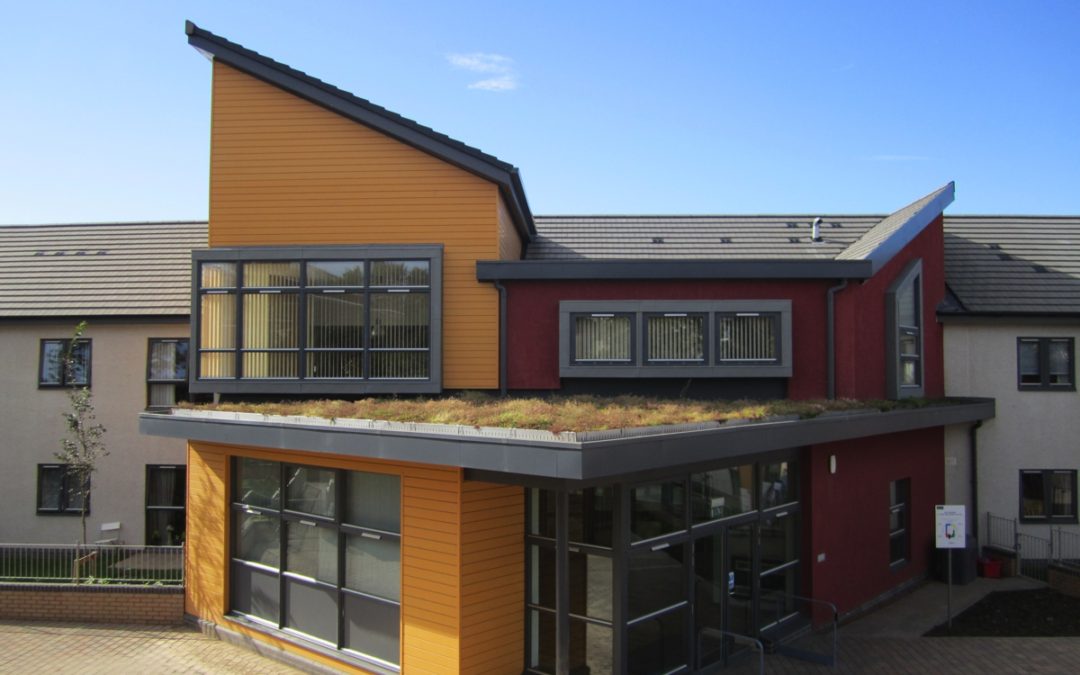 Projects
THE QUARRIES ELDERY HOUSING, HYVOT LOAN REGENERATION, EDINBURGH
A sustainable approach to elderly housing with a community hub at the centre of the Hyvot Loan Neighbourhood Regeneration.
A recent study by HAPPI – the Housing our Ageing Population: Panel for Innovation – highlighted that housing for older people should become an exemplar for mainstream housing and meet higher design standards for space and quality. It also identified that meeting the needs and aspirations of our ageing population concerns the entire machinery of housing delivery, from planning to construction. Emphasising the space of the home, HAPPI identified ten key design elements:
Space and flexibility
Daylight in the home and in shared spaces
Balconies and outdoor space
Adaptability and 'care ready' design
Positive use of circulation space
Shared facilities and 'hubs'
Plants, trees, and the natural environment
Energy efficiency and sustainable design
Storage for belongings and bicycles
External shared surfaces and 'home zones'
With these elements in mind, ASSIST designed this phase of the regeneration to provide new elderly housing accommodation to replace the rundown 1960s terrace bungalows that currently occupy an area at the centre of the regeneration masterplan and which housed the elderly residents of this neighbourhood. From a master-planning perspective, the proposal establishes links with the various phases of mainstream housing which surround the site, ensuring that the new flats and communal facilities are at the heart of the regeneration.
The building is arranged around a secure central courtyard garden with individual two-person flats on two levels accessed by a fully glazed walkway. This walkway features semi-private recesses for tenants to populate with plants and seats, ensuring that the circulation space doesn't feel institutional and helping create a sense of personal identity. Combined with the courtyard garden, which includes private drying areas, raised allotment planters, exercise equipment, sensory planting, trees, shubs and a wildlife pond, the aim is to provide a broad choice of outdoor spaces and experiences to stimulate activity, good health and happiness.
All flats are wheelchair adaptable, meeting HFVNs and Lifetime Homes criteria. The plan is simple and flexible, designed to maximise natural light, provide ample storage and ensure ease of maintenance. Wet floor showers are installed throughout, as is a warden call system and an integrated sprinkler system for enhanced safety.
A community building hub addresses the public open space proposed to the front of the building on the site of the existing bungalows, providing a link between the public and private faces of the building. This houses a range of communal facilities including a meeting hall, separate meeting rooms, office space, a scooter store and re-charge room, a resident's lounge and kitchen which opens out onto the courtyard garden, whilst upstairs there is a second lounge and games room with an IT room adjacent. All facilities are arranged around a bright and airy atrium which acts as a core for the overall building and a focal meeting point.
Overall, the concept has been to provide independent housing for elderly people, but with integrated facilities to be able to offer more support if required.
Sustainability
This building has been designed to exceed current SBSA standards through good design, the use of appropriate technology and whole-life engineering of materials.
Sustainable Design:
– The building envelope has been designed to achieve a 40% improvement on U-values than currently required by Building Standards whilst robust detailing and the inclusion of a service void within the 160mm timber kit, lined with thermally insulated plasterboard has improved air tightness to between 3.0m and 2.5  m3/(m2.h) at 50Pa.
– A communal gas-fired, low temperature heating system where three boilers heat all 58 flats and the communal hub instead of 59 separate boilers equating to a lower capital cost and less planned maintenance costs.
– A passive solar corridor provides access to all flats around the internal courtyard. Initially, the flats are heated by the communal heating system which loops round the scheme in the attic above the flats. But each flat also has a positive input whole house heat recovery and ventilation system which draws air in from the solar corridor and uses this, along with warm air from the kitchen and bathroom, to pre-warm fresh air. This reduces the amount of heating required from the communal boiler, and is designed to reduce fuel costs.
– We have also designed the structure of the communal building to take advantage of enhanced thermal mass with a super-insulated masonry wall U-value of 0.15w/m2K, and combined this with underfloor heating on pre-cast concrete flooring throughout.
Sustainable Technologies:
– An 80 sqm Photovoltaic array has been installed on the south-facing roof of the courtyard walkway to provide electricity to power the communal and stair lighting. This  whilst at the same time taking advantage of the Government's Feed-in tariff. With a 10 year payback period the array has the potential to earn just under £65k over the next 25 years.
– The whole house ventilation system is a Greenwood Airvac Fusion HRV2, one of the UK's best performing heat recovery products and is both SAP Appendix Q Eligible and EST Best Practice compliant. Its cutting edge performance helps reduce DER's in SAP and the unit also incorporates the most sophisticated technology which enables an outstanding 93% heat transfer.
– Underfloor heating has used throughout the communal hub to provide high comfort levels – underfloor heating is the most comfortable form of heating because it is largely radiant, and people have evolved physiologically to prefer this form of heating. It is completely unobtrusive, generating more usable space in a room. There are no floor draughts and the temperature in all parts of the room is even.
– All lighting within the walkway, stairs, corridors and communal areas is energy efficient and motion detector activated to minimise energy use and wastage. Equally, this aids security within the building, detecting any intruder movement instantaneously.
Sustainable Materials:
– A lightweight render carrier has been used in place of standard block and render on the external wall of the flats, requiring smaller foundations, minimising the use of concrete and water, and producing less waste for landfill.
– A sedum roof has been included to minimise rainwater runoff and maximise biodiversity. This works in tandem with a SUDS pond designed as part of the overall neighbourhood regeneration.
– Pre-painted Accoya engineered timber cladding has been specified in place of typical natural larch or cedar timber; industry testing guarantees this type of timber for 50 yrs